The Good War
In its earliest days, the American-led war in Afghanistan appeared to be a triumph — a "good war" in comparison to the debacle in Iraq. It has since turned into one of the longest and most costly wars in U.S. history. The story of how this good war went so bad may well turn out to be a defining tragedy of the 21st century — yet as acclaimed war correspondent Jack Fairweather explains, it should also give us reason to hope.

In The Good War, Fairweather provides the first full narrative history of the war in Afghanistan, from the 2001 invasion to the 2014 withdrawal. Drawing on hundreds of interviews and months of reporting in Afghanistan, Fairweather traces the course of the conflict from its inception after 9/11 to the drawdown in 2014. In the process, he explores the righteous intentions and astounding hubris that caused the American strategy in Afghanistan to flounder, refuting the long-held notion that the war could have been won more troop and cash. Fairweather argues that only by accepting the limitations in Afghanistan — from the presence of the Taliban to the ubiquity of the opium trade to the country's unsuitability for rapid Western-style development — can America help to restore peace in this shattered land.

A timely lesson in the perils of nation-building and a sobering reminder of the limits of American power, The Good War leads readers from the White House situation room to American military outposts, from warlords' palaces to insurgents' dens, to explain how the U.S. and its allies might have salvaged the Afghan campaign — and how we must rethink other "good" wars in the future.
At last, an intrepid war reporter has woven together his insights from the battlefield, the unadorned views of grunts, and the political calculations of Washington to reveal the entire history of the war in Afghanistan. The result is a superb history, compassionate, comprehensive, and eminently readable. Like the best accounts of war, it shows how our aims going into a conflict are all too swiftly undercut by reality on the ground. Bravo Zulu! "

– Bing West, author of The Strongest Tribe: War, Politics, and the Endgame in Iraq and One Million Steps: a Marine Platoon at War
The Good War is a tour de force — a riveting, clear-eyed account of the troubled US-led war in Afghanistan. Jack Fairweather has shown himself to be a narrative historian of the first order. For anyone seeking an honest appraisal of what went wrong and why, this book is a must-read. "

– Jon Lee Anderson, author of The Lion's Grave: Dispatches from Afghanistan
A remarkable account of the longest shooting war in American history. The Good War is the kind of book one would not ordinarily expect to see for decades, encyclopedic in sweep and yet rich with colorful detail. Jack Fairweather writes with respect but often damning insight. He seems to have digested everything written about the war, and to have talked with every player, open and clandestine. This timely, absorbing narrative captures the essence of an infuriating place, illustrating once again a seemingly unlearnable lesson: There are strict limits to what can be accomplished by force. "

– Mark Bowden, author of Black Hawk Down: A Story of Modern War
Powerful. "

– James Meek, London Review of Books
It has been America's longest war, yet there is no real history of the conflict in Afghanistan. Now this war has finally found its chronicler. Jack Fairweather has reported deeply from the White House Situation Room to the deserts of Kandahar to tell a riveting story with an outsized cast of characters. It's a sweeping work of history written with great verve. "

– Peter Bergen, author of Manhunt: The Ten-Year Search for Bin Laden from 9/11 to Abbottabad
An excellent account. The outline of Fairweather's story is sadly familiar, but he writes with exceptional lucidity and punch… No British officer should be allowed to board a plane for our next war until he has read Fairweather's account of how we messed up the last one. "

– Max Hastings, Sunday Times
Thanks to reporters such as Jack Fairweather, we now know that this Afghan war has been—and still is—anything but good… [The Good War] combines first-hand war reporting with shrewd analysis of the western conduct of the war. "

– Financial Times
Jack Fairweather's sweeping account, The Good War, is one of the first to look at the war as a whole…His richly narrated history roams from the corridors of the White House to the poppy palaces of the country's opium warlords and the patrol bases of Sangin and Kandahar… As the West looks at the chaos of Iraq and Syria and once more considers how to intervene, the sobering warnings of this riveting book are more relevant than ever. "

– Daily Telegraph
This smart, well-researched and well-written analysis explains how 'the world's most powerful leaders plotted to build a new kind of nation in Afghanistan that was pure fantasy. "

– J. Ford Huffman, Military Times
A fresh and needed analysis of the political miscalculations and lack of strategic vision in Washington, D.C., and other Western capitals regarding their grand experiment in Afghanistan. Fairweather synthesizes earlier writing with his original investigative work and private interviews to offer a unique and important chronicle of America's longest war in its history. An excellent chronicle of the most significant challenges and… a valuable reflection on the most important lessons learned. "

– Foreign Policy
[A] gripping and detailed narrative… Fairweather breaks new ground with a number of assertions that challenge conventional wisdom. "

– Publishers Weekly
Recommended for all Americans who want to understand more than a dozen years of an American war in Afghanistan… Fairweather offers a knowledgeable argument for a more careful and thoughtful response to a complex and dangerous world in which terrorists threaten the stability of many weak societies. "

– Library Journal
A thorough, elegant reassessment of America's 'irresistible illusion.' "

– Kirkus Reviews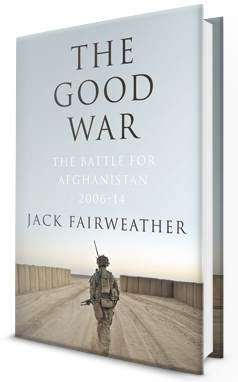 Press
As serialised in:


Books of the Year:




Awards
Overseas Press Club Award citation, short-listed for the Lionel Gelber Award for best foreign policy book
Stores
Find at these sellers: