About
Occupied Poland, September 1940: 39 year-old Polish underground operative Witold Pilecki volunteers for a secret mission to infiltrate Auschwitz and uncover the fate of thousands of his compatriots interned in the camp.
His orders: report back to Warsaw on conditions, and, if possible, stage an attack against the Germans from inside the camp - where they would least expect it.
Over the next two and half years, Pilecki forged an underground army within Auschwitz that sabotaged facilities, assassinated Nazi informants and officers, and gathered evidence of terrifying abuse and mass murder. But as he pieced together the horrifying truth that the camp was to become the epicenter of Nazi plans to exterminate Europe's Jews, Pilecki realized he would have to risk his men, his life, and his family to warn the West before all was lost. To do so, meant attempting the impossible—an escape from Auschwitz itself..
Completely erased from the historical record by Poland's Communist government, Pilecki remains almost unknown to the world. Now, with exclusive access to previously hidden diaries, family and camp survivor accounts and recently declassified files, Jack Fairweather reveals Witold's exploits with vivid, cinematic bravura. He also uncovers the tragic outcome of Pilecki's mission, in which the ultimate betrayal came not on the Continent, but England.
Reviews
Superbly written and breathtakingly researched, The Volunteer smuggles us into Auschwitz and shows us—as if watching a movie—the story of a Polish agent who infiltrated the infamous camp, organized a rebellion, and then snuck back out. We are squarely confronted with the other human truth: ordinary people will happily risk their lives to help others. Fairweather has dug up a story of incalculable value and delivered it to us in the most compelling prose I have read in a long time. "

– Sebastian Junger, author of The Perfect Storm and Tribe
This is such an amazing story it would be impossible to believe if it were not so meticulously researched and clearly told in Jack Fairweather's book. The great irony is that Witold Pilecki's failure — to alert the world the horrors of Auschwitz and to resist the Soviet occupation of his country — is a monument to singular, courageous decency in the face of boundless atrocity. The book succeeds as a page-turner, a remarkable inside-view of the Holocaust, and also as a testament to all that is best in the human spirit. "

– Mark Bowden, author of Black Hawk Down and Killing Pablo
In The Volunteer, Jack Fairweather tells us the remarkable story of Witold Pilecki, a member of the Polish underground resistance who volunteered to go into Auschwitz as a prisoner and spy. Once inside, Pilecki became an eyewitness to the unfolding horrors of the Holocaust and tried to alert the outside world so that they could be stopped. This is a riveting account of human heroism in the face of overwhelming odds, and Fairweather's storytelling is simply masterful "

– Jon Lee Anderson, New Yorker writer and author of The Lion's Grave
Were it not true, the story of Witold Pilecki, a Polish resistance fighter who volunteered to be imprisoned in Auschwitz, would seem beyond belief. In The Volunteer, Jack Fairweather has meticulously chronicled Pilecki's remarkable journey, one that was lost from history, crafting a book that is as riveting as any page-turner and as profound as any great work of literature as it reveals humanity's capacity for both courage and savagery."

– Elliot Ackerman, author of Dark at the Crossing
Witold Pilecki is one of the unsung heroes of World War II. Jack Fairweather has brought Pilecki's story to life with a rich array of primary sources that reveal his role alerting the world to Auschwitz's horrors and its transformation from a concentration camp to the epicenter of the Holocaust. In doing so, Fairweather reminds us that the Nazi leadership didn't start the war with the idea of the Holocaust fully formed - its policy emerged through a series of experiments in mass murder, which Pilecki was able to witness and report on with remarkable courage and tenacity."

– Antony Polonsky, Chief Historian, Polin Museum of the History of Polish Jews
Upcoming events
| | |
| --- | --- |
| June 20 | Stoneledge Farm, Charlotte Vermont |
| June 24 | Polish consulate, NYC |
| June 25 | 92nd Street Y, NYC |
| | Museum of Jewish Heritage, NYC |
| June 26 | Polish ambassador's residence, Washington DC |
| June 27 | Polish consulate, Chicago |
| July 2 | Polish embassy, London |
| July 3 | Waterstones, Hampstead Heath branch, London |
| July 4 | Warsaw, Karta |
| July 15 | Toronto, Polish consulate |
Author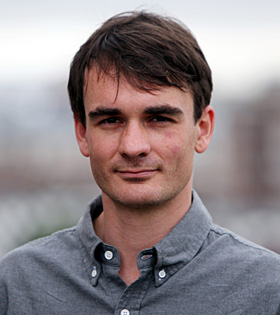 An award-winning war reporter, Fairweather travelled with the British troops from Kuwait into Southern Iraq, and spent the next six years in the Middle East, including Iraq, Yemen, Syria and Jordan. Most recently, he covered the war in Afghanistan for the Washington Post.
Buy the book
Coming soon from these sellers: